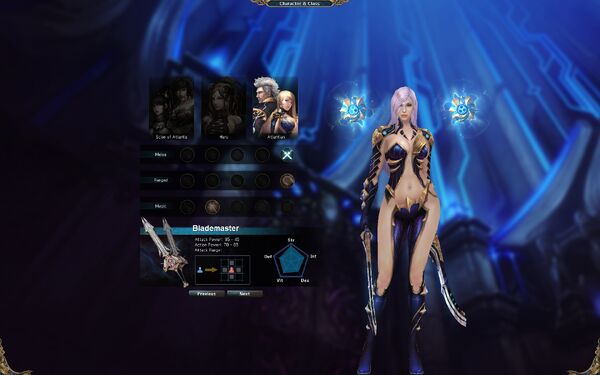 The Atlantian Blademaster is a Dual Sword main character class.
With a sword in either hand, you deal damage to your target and everyone around it. Your Static Shield spell hurts anyone who attacks you, while Direct Current channels lightning through your basic attacks. You can also learn Thunder Soul, which unleashes all of your stored energy in one mighty blow.
Basic Info
Edit
Attributes
Edit
Level 120 Upgrade Skills
Edit
You can learn only one of these skills. These skills can only be learned after level 120 upgrade.
Ad blocker interference detected!
Wikia is a free-to-use site that makes money from advertising. We have a modified experience for viewers using ad blockers

Wikia is not accessible if you've made further modifications. Remove the custom ad blocker rule(s) and the page will load as expected.