For a full list of boxes click here
Box may refer to any of a number of boxes you receive in Atlantica Online for various reasons, usually as a reward for completing a task, such as a quest.
Opening Boxes
Edit
To open a box, right-click it. The item(s) from the box goes into your Inventory. If you don't have enough room in your inventory, the item(s) will be mailed to you.
Opening Multiple Boxes
Edit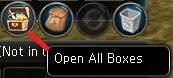 You will often have stacks of boxes, up to 10,000 in a stack. You can open up to 50 boxes at once by clicking the Open All Boxes icon at the bottom right of your inventory.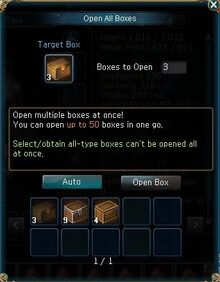 The Open all Boxes dialog will pop up.
Click Auto to switch among the possible stacks of boxes shown at the bottom (which are all stacks of boxes from your inventory).
The item(s) from the opened boxes will be mailed to you.
Box types
Edit
Ad blocker interference detected!
Wikia is a free-to-use site that makes money from advertising. We have a modified experience for viewers using ad blockers

Wikia is not accessible if you've made further modifications. Remove the custom ad blocker rule(s) and the page will load as expected.