The Elementalist (Pocahontas) is a grade B Staff Mercenary.]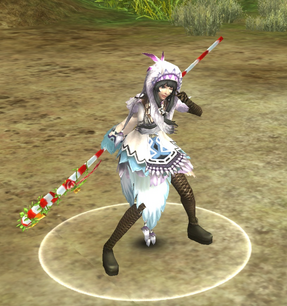 The weather itself bends to the Elementalist's will. With blustery blizzards and beating suns, she weakens the resolve of any melee warrior she meets.
Her Freezing Atmosphere spell will prevent enemy melee mercenaries from using magic, while Blazing Earth deals heavy damage and decreases attack power.
You can have up to 1 of this mercenary.
You can recruit an Elementalist from Wise Orenda near the Valley of Oblivion Guild Dungeon.
Characteristics
Edit
Attributes
Edit
Basic Attack
Edit
Recruitment
Edit
Upgrades
Edit
Redemption Soul Crystal and Redemption Soul Jewel.
This Mercenary can use these Magic Skills:
The Elementalist's Blazing Earth magic skill was updated to scale with the level of the mercenary in the Perils of Avalon Update.
Lowers nearby melee enemies' Vitality by raising the temperature of the atmosphere (AoE). This skill also does some damage to nearby non-melee enemies.
| Skill Level | Merc Level* | MP | Attack Power (PvE) | Health (PvE) |
| --- | --- | --- | --- | --- |
| 60 | 150 | 1,390 | -5,560 | -1,602+56.9% |
| 70 | 150 | 1,490 | -6,440 | -1,682+61.8% |
| 80 | 150 | 1,590 | -7,320 | -1,762+68.3% |
Create a bitter cold by controlling the atmosphere in order to weaken the enemy's Melee mercenaries and block enemy's Magic power (AoE).
Ad blocker interference detected!
Wikia is a free-to-use site that makes money from advertising. We have a modified experience for viewers using ad blockers

Wikia is not accessible if you've made further modifications. Remove the custom ad blocker rule(s) and the page will load as expected.