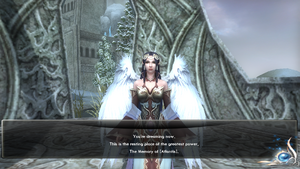 This new player guide will walk you through the first steps on your way to starting your Atlantica Online adventure. This guide assumes that you have already downloaded the game from the official website and installed it successfully.
First Steps
Edit
Create an account
Edit
To begin playing, you must first create an account for yourself. You will use this account to log in to the game each time you wish to play. Ensure that you choose a user ID and password that you can easily remember as this information is required each time you log in.
Start the game
Edit
After installing the game you should have an icon on your Windows Start menu which you can use to launch the game. If not, start AtlanticaRun.exe from your game directory. This program is the launcher for the game. The launcher will download any patches you need to play. You must wait for the launcher to download any patches before you can proceed. Once you have all of the patches, you will be presented with a start button which you can click to launch the game.
Log in to the game using the used ID and password for the account which you created earlier.
Choose a Server
Edit
After logging in you will be presented with a list of servers to choose from. Each server represents a unique instance of the Atlantica game world. There is not a lot to choose between them, but keep in mind that you will only be able to interact with players who connect to the same server as you, so if you have friends who are already playing Atlantica Online, you may wish to choose the same server as them. In Atlantica Online, all servers have equal access to PvE and PvP play, there are no dedicated servers for either play style.
Create Your Character
Edit
Spend some time considering which weapon your Main Character will use. Although it is possible to switch at a later time, this is usually quite costly. Also consider that each Main Character is in a Formation with 8 Mercenaries, so your characters will have various weapons.
Configuring
Edit
Once you have enjoyed the short introduction to the game you will finally be presented with the regular game interface. This is your first opportunity to adjust your game settings. Even though you have only just begun the game and are no doubt itching to get started, it comes highly recommended to take a moment to configure your game now as it will maximize your enjoyment ahead. The game settings are found from the menu at the top of the screen by choosing System -> Settings.
The bullets at the top of the window offer five graphics presets that configure most of the other options in the window automatically for you. The default of three should be satisfactory for most systems, but you can decrease this for better performance or increase it for better appearance. This window is not particularly important at this stage but you may want to revisit it later.
It is imperative that you disable the camera effects option. Camera effects are in fact camera animations that trigger randomly while you're attacking. Since you only have a limited time to move all members of your party each turn, this "cool effect" will actually hamper your ability to play properly, so disabling it is essential to ensuring your best shot at success and survival in battle. If you are not offended by written language, you may also wish to disable the use chat filter option.
Unless you have sound disabled entirely, you may wish to disable the chat sound effect option, as this inevitably becomes very irritating very quickly otherwise.
Frequently Asked Questions
Edit
What is the [18] at the end of my name?
Edit
That's your Free League division. Free league divisions range from 18 (the lowest) to 1 (the highest). Until you begin participating in the free league, your division will not increase. This number only displays while you are participating in Free League.
How can I re-map or re-bind the control keys?
Edit
Unfortunately, there is no way to change your key configuration at this time.
Can I run Multiple Game Clients?
Edit
Yes, you can. To do so, you need multiple game accounts, you cannot run more than one character per account at a time. Once you have multiple accounts, you can run them on separate PCs, or you can launch atlantica.exe (not atlanticarun.exe) multiple times. You will probably want to run in windowed (instead of Full Screen) mode when you do so.
Ad blocker interference detected!
Wikia is a free-to-use site that makes money from advertising. We have a modified experience for viewers using ad blockers

Wikia is not accessible if you've made further modifications. Remove the custom ad blocker rule(s) and the page will load as expected.