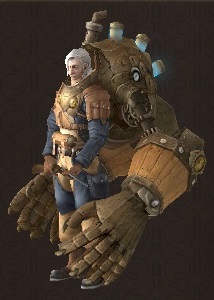 The Inventor is a grade C Gun Mercenary.
The Inventor may carry a rifle, but his most fearsome weapon is his mind. With the right machines, he can summon robots to help you loot, catapults to lay suppressing fire on the enemy, and ballistas to punch through enemy lines.
You can equip the machines you want him to summon in his off-hand.
Assessment
Edit
The Inventor is a versatile mercenary. His combination of a gun and being able to summon machines makes him a decent stunner or adds the ability to loot more each round. He also has high Magic Defense for a Ranged merc.
The downside is that his offense isn't as good as that of other gun mercs and in the long run, you will probably replace him. In the meantime, he is an inexpensive and fun merc to have.
Characteristics
Edit
Attributes
Edit
Basic Attack
Edit
Recruitment
Edit
Upgrades
Edit
Dragon Crystal and Dragon Jewel.
This Mercenary can use these Magic Skills:
Summon the inventor's invention.
The machines that can be summoned are of type Machine, which can be crafted or purchased on the Market. They are equipped in the user's Off-Hand slot. The machine fires automatically once at the beginning of the player's turn and fires at a random location in the enemy Formation. The catapults and ballistas will loot if they have nothing to shoot at (all enemies are dead).