Lunatic Heisha Modi
 is a monster located in Secret Laboratory 3 Northeast of Chang An in the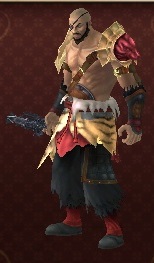 External Patrol Area. 
Level: 185
Attack Power: 500,000 - 600,000
Experience: 2,597,000
Type: Human
Magic: Chainsaw
Special: Boss
Special: Stun Immunity
Strong Will
Effect: Monsters with Strong Will have more resistance to bewitching.
Item Name
Ratio

Purified Enhance Stone
Very Low

Purified Enchant Stone
Very Low

      Titanium Ingot
 Low

     Adamantium Ingot
Very Low

Enhanced Titanium Ingot
Very Low

Enriched Adamantium Ingot
Very Low
Ob

sidian Shard
Very Low

Dark Pegasus Equipment Box
Very Low

Blue Sapphire
High

Twilight Equipment Box
Very Low

Judgment Equipment Box
Very Low

 Evil Equipment Box
Very Low

 Pegasus Equipment Box
Very Low
Add category
Showing 0 most recent
0 comments
Edit
Ad blocker interference detected!
Wikia is a free-to-use site that makes money from advertising. We have a modified experience for viewers using ad blockers

Wikia is not accessible if you've made further modifications. Remove the custom ad blocker rule(s) and the page will load as expected.