Italic information is from Closed Beta Phase 3 of Atlantica Online, and unconfirmed for current version of Atlantica Online.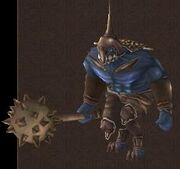 Basic Info
Items Dropped
Edit
Extra information and observations
Edit
This section contains information not directly mentioned in monster's statistics sheet, but that can be observed and confirmed during the course of battle.
This monster have sword-like attack pattern, targeting a single opponent's unit in frontline.
This monster have high defense, it is advised to use magic skills for best effect.
This monster resurrects after 4 turns in corpse form instead of disappearing. You should loot corpse to prevent that.
Ad blocker interference detected!
Wikia is a free-to-use site that makes money from advertising. We have a modified experience for viewers using ad blockers

Wikia is not accessible if you've made further modifications. Remove the custom ad blocker rule(s) and the page will load as expected.